Professional Makeup & Hair Artist
Over two decades of experience serving fashion, beauty, celebrity and advertising clients worldwide.
MAKEUP LINES
From as far back as Maureen can recall, she has been fascinated with beauty—and makeup in particular!
So it comes as no surprise that early in her career she was engaged in the product development and launch of several very successful cosmetic lines including Vidal Sassoon, Matrix Treatment Cosmetics, and eventually her own signature line, M.Burke Maquillage.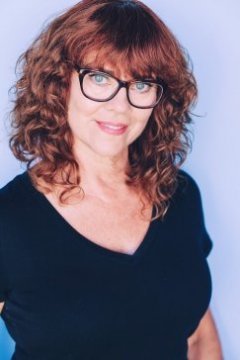 Most recently Maureen was contracted to develop, launch, and market the mineral makeup line, M. Vie, as their Brand Ambassador and Beauty Expert.
Over the years, Maureen has remained committed to enhancing the natural beauty of an individual so they look and feel special without a sense of being overly "made-up". Her philosophy: less really is more.
CLIENT EXPERIENCE
Maureen is a highly sought after, well respected makeup artist. Over the years, she has worked with many top models and celebrity clients including Cameron Diaz, Pamela Anderson and Heidi Klum.
As Key Makeup Artist, Maureen led makeup teams for many commercials and music video projects working with top recording artists such as Red Hot Chili Peppers and Smashing Pumpkins, to world renowned athletes like Michael Jordan and Jackie Joyner-Kersey.
She has worked with performers on a variety of television and award-winning engagements, including The Grammy's, Oscars, Emmys, VMA's, CMA's, GMA, The Today Show, The Ellen Show, SNL and Conan O'Brien.
Some of Maureen's fashion and advertising clients include: Marie Claire, Allure, Glamour, St. John Knits, Target, Nike, LL Bean, Nordstrom, Roots Canada, Pendleton and Land's End.
She is well known among many top photographers and directors in the industry including Dayton Faris, David La Chappelle, Jeff Licata, Lisa Loftus, Norman Jean Roy, and Victor Skrebneski to mention a few.
EDUCATION
Maureen finds teaching and sharing her expertise extremely rewarding. Whether it's a private lesson with an individual on how to apply their own makeup, educating an aspiring Pro MUA in a one-on-one session, or acting as a Platform Artist for a group seminar, it's the experiences doing what she loves that are most fulfilling.
Participating in other's growth and nurturing individual's transformations are personally and professionally invaluable for all involved.
"Only by nurturing your inner beauty, can your outer beauty truly radiate...Be the best version of yourself."
Her commitment to this mantra is evident in her work.
CELEBRITIES
Adriana Ugarte
Alexis Zall
Andrea Navedo
Bauhaus
Bill Gates
Bobby Moynihan
Brett Eldrege
Bria Murphy
Cameron Diaz
Cameron Esposito
Camila Mendes
Charlie Brooker
Christopher Guest
Cliff Curtis
Clive Standen
Cole Sprouse
Craig Kilborn
Dan+Shay
Danny Pudi
Dave Filoni
David O. Russell
David Yates
Desiree Akhavan
Devin Kelley
Elle Whitfield
Emma Ishta
Emma Watts
Frankie Ballard
Freddie Rodriguez
Gina Prince-Bythewood
Go-Gos
Gore Verbinski
Heidi Klum
Ian Ziering
INXS
Jackie Joyner-Kersee
James Corden
Janet Varney
Jeff Nichols
Jennifer Love-Hewitt
Jessi Klein
Jewel
Justin Paul
Kathy Griffin
Khary Payton
Lance Bass
Laura Ricciardi
Leslie Linka Glatter
Lilan Bowden
Lois Smith
Love and Rockets
Lusia Strus
Maria Shriver
Mark Duplass
Martin McDonagh
Maureen Orth
Max Schneider
McKenna Grace
Madelyn Lazar
Mia Kirshner
Michael Jordan
Michelle Pesce
Moira Demos
Molly Parker
Mozahn Marno
Natalie Chaidez
Neal McDonough
Nicole Eggert
Nina Jacobsen
Pamela Anderson
Phil Mickelson
Phoebe Waller-Bridge
Rachel Kushner
Rachel Matthews
Rachel Morrison
Rawson Marshall Thurber
Red Hot Chili Peppers
Robin Swicord
Rosalie Swedlin
Ryan Potter
Sarah Shahi
Scott Adsit
Scott Weiland
Shelby Steel
Smashing Pumpkins
Susan Johnson
Tamara Jenkins
Taylor Gray
Tegan and Sara
Tiya Sircar
TJ Miller
Travis Tritt
Urge Overkill
Vince Vaughn
Yael Grobglas
EDITORIAL
Allure
Angeleno
Bello
Chicago Social
Cosmopolitan
Emmy
Glamour
Hamptons
InStyle Germany
Lapalme
Marie Claire Espana
Men's Health
OUT
People
Prestige
Rolling Stone
Self
Shape
The Gloss
ADVERTISING/CATALOGUE
Alternative
Amazon/My Habit
Blair
Converse
Eddie Bauer
Frame Denim
Garbe Luxe
Gatorade
Harley Davidson
Holland America
Kohls
Lands End
Leon Max
LL Bean
Macys
Matrix
Max Studio
Midnight Velvet
Netflix
Nick Fouquet Hats
Nickelodeon
Nike
Nordstrom
Oakley
Orchard Brands
Pendleton
Puma
Purina
Quick Silver
Roots Cananda
S&S Activewear
Sandbox Studios
Sanmar
Seabourn
Sears
Southwest Airlines
St. John Knits
The Net
The Territory Ahead
PHOTOGRAPHERS/DIRECTORS
Albert Kodagolian
Amyn Nasser
Barry Harris
Blasius Erlinger
Bob Giraldi
Brigette Lancombe
Carter Smith
Daniel D'Ottavio
David LaChapelle
Dayton-Faris
Dean Bradshaw
Dean Zulich
Dennis Manarchy
Didier Gault
Dominick Guillemot
Don Flood
Greg Hinsdale
Jeff Licata
Jill Greenberg
Joan Teasdale
Joel Schumacher
Jonty Fine
Larry Bartholomew
Laurie Rubin
Lisa Loftus
Melanie Acevedo
Neal Barr
Nicola Majocchi
Noe DeWitt
Norman Jean Roy
Philip Newton
Roger Neves
Samuel Bayer
Sandro Miller
Scott Council
Steve Erle
Steven Talley
TJ Manou
Todd Norwood
Tom Rafalovich
Tony Latari
Veronique Vial
Victor Skrebneski
COMMERCIAL/MUSIC VIDEOS
Cheer
Gatorade
Goody
Illinois State Lottery
INC.
KIA
Korn
Lee Brice
Miller lite
Puma
Red Hot Chili Peppers
Skid Row
Smashing Pumpkins
Spanish Lotto
Verve Pipe
Wheaties